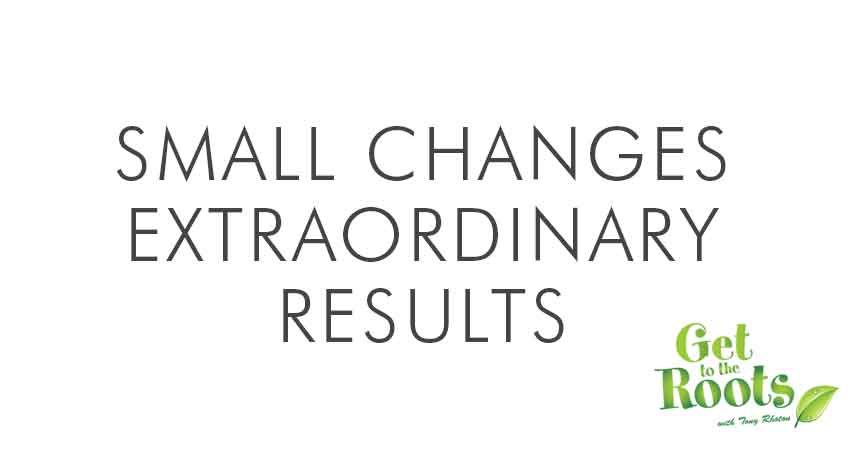 Small Changes Extraordinary Results
The Slight Edge Can Change Your Life, Forever!
I am excited to talk to you about a book that I've read that has changed my life in a lot of ways. The title of the book is, 'The Slight Edge' by Jeff Olsen.
The Slight Edge is not just a fantastic book, but the principles it teaches is spot on. The Slight Edge is about making little changes to achieve significant results.
I've already talked about the best year ever and how to apply that exercise in your life. We've talked about how you break down the what is going to make it the best year, which helps you to identify what your real goals are.
Once you have your large goals, you can break them down into smaller goals; this simple exercise is a little change or a slight edge a movement in a direction that will help achieve phenomenal results.
Small Improvements
Let's talk more about the slight edge principle of making small improvements to make a difference now. Here's an analogy to explain this concept.
If a plane took off and was off course by a degree, you would never reach your destination. You would be so far away from your desired location that you would have to get on a new plane.
At first, you may think, it's no big deal, but then by the end of its flight, the plane will be entirely in the wrong place from where it should be. This analogy explains the slight edge; making a little adjustment or change that will help improve your life forever.
The change that you make is not a drastic difference, but it's just enough that it helps you improve. Those slight edge changes can be different for everybody. For me, one of the things that I have implemented in my life is just by reading just a little bit a day; sometimes I only read one page a day. Reading a book just a little bit every day, I've now completed several books, that's an example of a slight edge; it's not huge, but it does make a difference.
Discovered Knowledge
The things that I've learned and I've been able to implement in my life has made things that much better. I find insight in situations that I don't have any knowledge of and I've been able to share that with other people.
Identify for yourself what is going to be your slight edge what change are you going to implement today that's going to make a difference. If you could make one small change every month, imagine what your life would be like in 3 months, a year, or 5 years the possibilities are endless. Minor changes can and will change your life.
I hope you enjoyed this post. I enjoy doing these podcasts for you. You're amazing and deserve all of the blessings in the world.
You're Amazing, Rise Up!
[amazon_link asins='1626340463,B00BR9WYUM,B000NU3KS6′ template='ProductGrid' store='akdianet-20′ marketplace='US' link_id='bfba1288-c00d-11e7-a941-d3caa424f6d8′]